Christmas lights are a main spectacle for people to enjoy during the Christmas season! We want to make your holiday season as easy and enjoyable as possible. Let us do the hard work of installing your Christmas lights for you and making your house shine!
Tulsa Christmas Light Installation Services
We pride ourselves in our knowledge of residential & commercial Christmas light installation, as well as the knowledge to know what kind of lights would work best for any budget! We use C9 incandescent bulbs or LED's depending on your preference. We will supply all hangers/clips and bulbs and maintain them all throughout the Christmas season for you. We can supply you with whatever colors or patterns of lights you prefer, just give us a call to set up an estimate. Our main priority at Redbud Property Maintenance is to make sure we find the best fit for you and your home or business.
Don't forget we also provide year-round Tulsa lawn care and Owasso lawn care lawn services. Our Tulsa lawn care and landscaping services team will treat you right!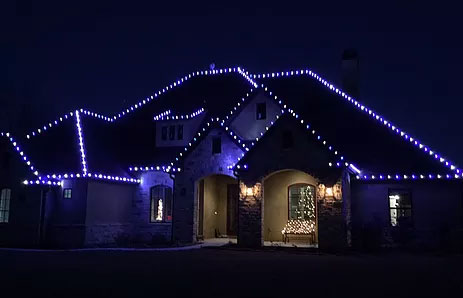 Christmas Light Installation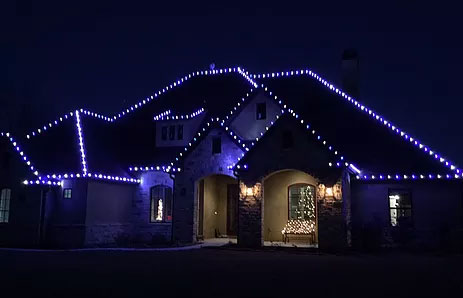 The Extras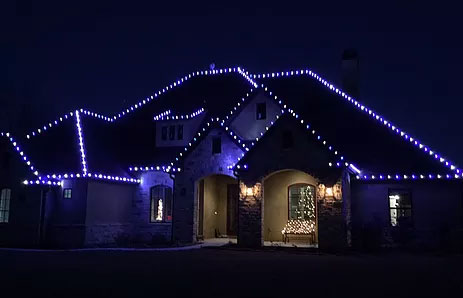 Design Consultations
Typical Christmas Light Installation Service includes:
Every C9 strand is custom fit to your home and your visual desires to keep a clean appearance with minimal cords and an extraordinary result.
We will remove your lights shortly after the first of the year.
If we install our custom light on your home, we will store your lights for FREE!
LED vs Incandescent
There are so many choices with Christmas lights! What colors you would want to use, what patterns, and if you would rather use LED lights or incandescent lights, and there are pros and cons to using each!
Efficiency – Lower energy usage.
Cost – LED's cost more to begin with but are less expensive than incandescent in the long run.
Durability –  able to stand up to vibration, shock and varying temperatures.
Safety & Environment – LEDs remain cool to the touch; made from non-toxic materials and don't contain hazardous chemicals.
Color – can be manufactured to emit a wide range of colors.
Cost – Incandescent bulbs have the lower up-front cost.
Color –  Incandescent have the element of tradition or nostalgia with that familiar warm glow.
Popularity – is the most common light bulb sold.
Have More Questions?
Visit our Christmas Lights Installation Frequently Asked Questions.
Recent Blogs
Learn more about Holiday / Christmas Lighting Installation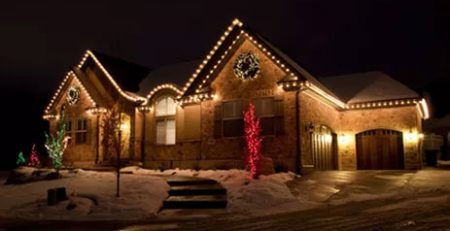 What would Christmas be without Christmas lights? Tulsa and Owasso area homes seem to come to life during the [...]
Read More